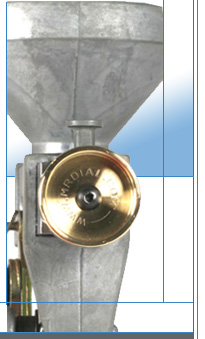 See our list of Frequently Asked Questions information.
FAQ's

MRDial the Powder Measure Adjustment Dial, Reloading Supplies and Enhancements.
As a reloader, expert or novice, you are probably familiar with Dillon Precision Products, Inc. Dillon has a reputation for making the highest quality reloading equipment available. If you own a Dillon Powder Measure, this new "Powder Measure Adjustment" dial will further enhance the ease of your reloads.

Before MRDial:
Adjusting the powder measure can be tedious. Once set, you are not as willing to change your setting for testing other loads or just tweaking your setting. Here are some of the stock features:


Wrench is needed for any kind of adjustment and it will have play/slop making fine adjustments a nightmare.
No reference point while adjusting. No Scale measure.
Purchasing multiple powder bars or measures just increases the problem and can get expensive.
Requires you to remember which way to turn to add or remove powder.
Mass production of stock bolt results in 99% of bolts not being perfect, thus causing inconsistent loads.
After MRDial:
Now, adjusting your powder measure will be a snap. Adding our dial will allow you the ease of hand adjustments. Here are the advantages:
No Tools

(Wrench) needed to adjust.

Numbered graduations

to give you reference and let you know which way to turn to add more powder. The larger the number the larger the charge. Very important for making new loads or keeping track of current load.
Fine Adjustment: Every graduation will move the insert 1/1000 of an inch. This actually tells you how fine of an adjustment you have. (Average of 3 to 4 graduations per 1/10 of a grain adjustment).
New and Improved custom bolt
Life time Warranty
30 Day Satisfaction 100% Money back Guarantee
Made in the USA
The only system with a US PATENT (#D488399)
We are the original deal!

For a limited time only, FREE SHIPPING!
You may also download our brochure here.

Home | FAQ's | Order | Testmonials | Images | Support | Contact
© Copyright 2012 MRSales.
Dillon Precision, Dillon, and any Dillon product names or numbers are the property of Dillon Precision Products, Inc. and are used here solely for reference. Firearms cartridge handloading / reloading needs to be done carefully and with knowledge. MRSales, its officers and associates, and Dillon Precision cannot be held liable for your efforts at handloading / reloading. To learn how to reload, please visit bookstores or reloading sites for proper information.